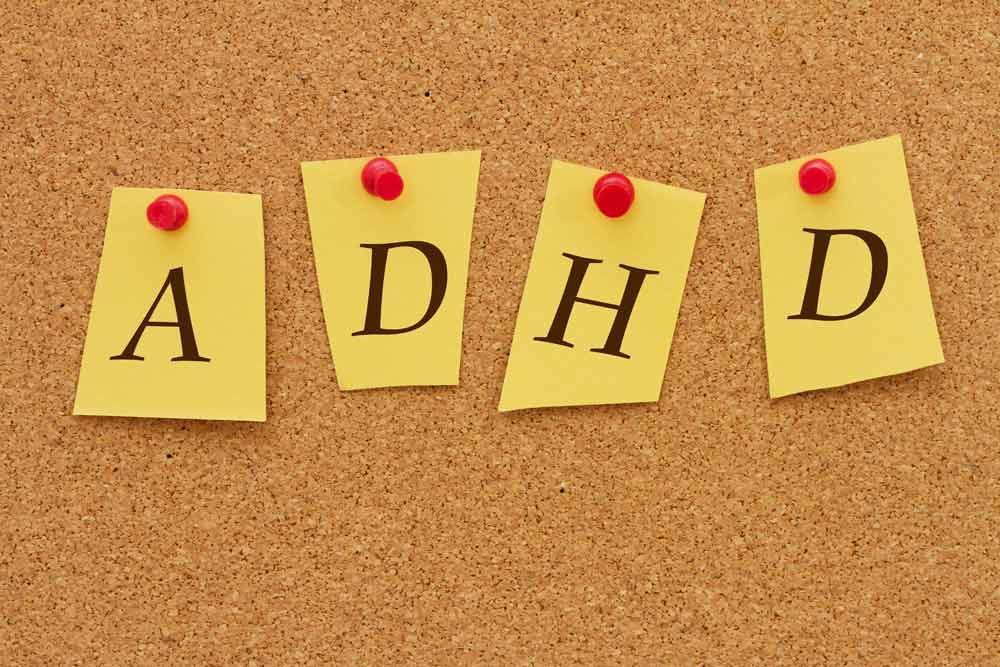 Two years ago, my husband and I had our daughter evaluated for learning disorders.
It wasn't something we'd anticipated ever having to do: Katie had always been an ace student, reading and writing well above grade level and sailing through standardized testing with outstanding scores. Despite these successes, though, by fifth grade she was exhibiting symptoms of anxiety about her work. And in middle school, our normally-together adolescent started missing homework assignments and having trouble keeping track of what was due. Worksheets vanished into the ether. Math baffled her, even with extra help from a tutor. In fact, simply getting out the door every morning seemed to present major challenges.
A detailed evaluation by a neuropsychiatric evaluator turned something we'd feared but half-expected: our daughter had ADHD. Less-expected (at least for me) was the revelation that ADHD is largely a genetic condition—and that since I'd struggled with many of the same issues at her age, those genes probably came from me.
I'll admit I was dubious—even after confirming the diagnosis with my own psychiatrist. Even though I identified with my daughter's struggles, for me the term attention deficit hyperactivity disorder had always summoned images of jittery, badly-behaved little boys. It certainly didn't mesh with my professional profile: two advanced degrees, two acclaimed novels and an impressive body of journalistic work, both domestically and abroad. "You? ADHD?" my literary agent scoffed. "How is that even possible?"
As I thought it through, though, other aspects of my life began to take on a new light: the mounting academic struggles throughout high school and college—particularly when it came to math, language and deadlines. My tendency to mix up times and dates, and my utter inability to think in navigational terms (North? What's that?). Not to mention all those lost wallets, keys and sunglasses… Like my friends and family members, I'd always dismissed these things as the mere offshoots of a creative personality. Apparently, however, they went deeper: by definition, both Katie and I were "disordered."
But if the news came as a blow, it was one softened by the realization that our struggles weren't (as we both had privately suspected) about personal failings, but about the way that we both were wired. What's more, while I'd spent decades learning to compensate for my neurological peculiarities—learning painstakingly to write everything down, to painstakingly map destinations ahead of time (and give myself far more time than I thought I needed to reach them), and to approach math and languages resigned to the fact that I'd very likely have to spend two or three times as long on those subjects as other people–we'd gotten Katie diagnosed in time to look into therapy, medication and extra academic help. In short, to make her journey far easier than mine had been.
As it turns out, most girls aren't so lucky. The Center for Disease Control and Prevention puts its most recent diagnoses for the condition at 11 percent for school-aged girls and boys alike—a figure that will likely rise in the future, due to a recent broadening of the Diagnostic and Statistical Manual of Mental Disorders' definition of ADHD. And yet boys are more than twice as likely to be diagnosed with it as girls. Experts say that this discrepancy stems from a public perception shaped by ADHD research conducted in the 1970's. Based primarily on young white males, the conclusions of those studies still define how many parents, teachers, and even clinicians expect ADHD to look. What they failed to catch is that though the causes of the disorder are the same regardless of gender, it presents very differently between boys and girls.
Boys tend to be more defiant and more disruptive in class," says Kathleen Nadeau, director of the Chesapeake ADHD Center of Maryland. "So parents and teachers are more motivated to do something about it."
But girls like my daughter–and myself at her age–generally display quieter symptoms like inattentiveness and excessive chattiness, which was something almost all of Katie's teachers had mentioned to us at one point or another. "Girls are struggling," says Nadeau, "but not in the same disruptive way. So their difficulties are attributed to anxiety, or 'poor thing, she's just a social butterfly,' or 'she just needs to apply herself.'"
Societal stereotypes add to the trickiness of spotting the disorder in females. "There are different expectations of girls then there are of boys," says Stephanie Sarkis, a psychotherapist and author of four books on adult ADHD. "With girls, 'ditzy' is endearing—while when boys have trouble focusing it's seen as an impairment." All of which adds up to a chronic under-diagnosis of ADHD in girls. And since we now know that most ADHD cases carry on through adulthood, that means grown women like myself are highly underdiagnosed too.
It's an oversight that is all the more troubling given the fact that ADHD can carry special implications for females. For instance, ADHD-related impulsivity means that girls who have the disorder are at greater risk for unplanned pregnancies, STD's and eating disorders. They also have more of a tendency towards self-injury, suicide and substance abuse. Then there is the fact that ADHD symptoms can be aggravated by shifting estrogen levels—which means that they can worsen with the onset of puberty, menopause and even monthly menstrual cycles.
In addition, girls are at least five times as likely as boys to be diagnosed with anxiety (like my daughter was) or depression (as I at one point was) before getting their ADHD diagnoses. In fact, for girls in particular, says clinical psychologist Ellen Littman (who is also author of The Secret Lives of Girls with ADHD, which is due to be re-released in January) "it is extremely likely that some depression and some anxiety will occur as a corollary of suffering with undiagnosed ADD." She puts the overlap at around fifty percent, and attributes it to the fact that many of us do what Katie had clearly started to do, and what I did (on and off) for four decades: blame their ADHD-related failings on themselves.
But what's essential to keep in mind, she and others stress, is that there is nothing wrong with having ADHD. In fact, Nadeau doesn't even consider it a disorder. "It's just a type of brain," she says—one that she believes affects up to 15% of the population. And while ADHD certainly presents challenges, "it has attributes that can be very positive, if one puts oneself in the right situation." For instance: while many people with ADHD struggle with executive function-related activities, they are also often natural "out of the box" thinkers, able to approach problems with unusual creativity. In fact, recent research supports the theory that people with ADHD characteristics are capable of reaching higher levels of creative thought and achievement than those lacking those characteristics — which would explain why so many of us are end up in creative fields (actors, musicians, writers).
What's more, while people with ADHD have difficulty paying attention to things that bore them, they can also often "hyperfocus"—meaning concentrate with an almost other-worldly intensity–on things that truly interest them. "The ADHD brain loves novelty," explains Sarkis. "And hyperfocusing on something new and exciting [means] your dopamine level goes up. It's like being 'in the zone,' but amplified."
Of course, this can translate – as it sometimes does for my daughter – into getting "trapped" in a video game when she should be doing homework. (Or in my case, online shopping or playing " Scramble With Friends " tournaments instead of writing.) But it can also manifest as an ability to see potentially grueling projects–say, a twenty-page lab report of the sort Katie loves, or one of my own, heavily-researched historical novels–through to completion, where more "normal" brains might give up or burn out.
For girls as well as women, keeping in mind such "positive" aspects of ADHD is key to learning to live with—and even embrace—their unique condition. In fact, for many of us the real work on our ADHD issues will center on changing the way we view ourselves. It will also involve challenging long-held and potentially damaging attitudes about our self-worth–and working to create more supportive systems for ourselves, at home, at school or on the job. "The biggest thing that needs to be done is reframing," says Littman. "We can't change your brain's wiring. But we can change the lens through which you view everything."
It's not always an easy path–but it can be a profoundly rewarding one. Over the past two years, armed with new understandings of what makes us "tick" and some carefully-selected back-up help, my daughter and I both have made significant progress in things like time management and focus. In Katie's case, we've been able to get her extra tutorial sessions in school and adapt her study and organizational habits to her own unique needs. As a result, she maintained an A-average throughout 7th grade and was accepted into a highly competitive New York City high school—where she is currently thriving. For my part, I've learned to be less hard on myself when my attention slips or I mix up a date or two—and in the meantime, have finished my second novel, launched into a third and balanced a fairly demanding schedule of teaching and advising writing.
Recently, Katie said something that made me realize just how far she has come. "ADHD is something that makes life harder at times," she told me. "But it's also something that makes me—well, me. I'm not sure I'd want to change it, even if I could."
I felt a warm flush of pride over how wise and mature my daughter is. And then I realized something else: that I actually feel the very same way.