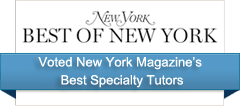 Under the leadership of Brad Hoffman and Faya Hoffman — a husband-and-wife team and both Board Certified Educational Planners, Educational Consultants, and Learning Specialists — My Learning Springboard works with learners of all ages who have diverse learning goals. Our approach caters to a wide range of students: the first grader with reading difficulties; the fourth grader struggling with mathematical concepts; the seventh grader challenged with organizational and study skills; the overwhelmed high school junior in need of a flexible academic coach; or the highly curious learner wanting to explore coding, creative writing, engineering, chemistry, personal finance, or art.
Our mission is to help each student reach their full potential by becoming a confident, successful, and lifelong learner. We involve students and parents in the decision making process from the start, together selecting the best tutor or team for each family's needs. Each family works closely with our leadership team throughout their time with My Learning Springboard to customize their experience, facilitate strategic planning, and ensure success.
Our practices draw from a variety of programs, methodologies, and evidence-based practices so that we can effectively individualize instruction and adjust each child's program as it gets under way. In our tutoring work with students, we efficiently integrate academic support, enrichment, and organizational and study skills regardless of subject matter. Classroom topics serve as a jumping off point for furthering conceptual understanding, critical thinking, and problem-solving skills. We pride ourselves on serving as a resource for students, parents, and teachers by staying on the cutting-edge of educational and pedagogical research, technology, and news.
As a faculty, we are masters at assessing and individualizing instruction and strategically mapping out and implementing school planning efforts and instructional programs. Our consultation often includes collaboration with school learning specialists, administrators, school counselors, psychologists, or any other professional involved with supporting a student or family.
Our Beliefs About Teaching And Learning
You can also explore our company and services in each of these languages:
| | | | |
| --- | --- | --- | --- |
| | | | |
| 普通話 | Français | עברית | Português |
| Mandarin | French | Hebrew | Portuguese |
| | | | |
| --- | --- | --- | --- |
| | | | |
| Pусский | Español | العربية | English |
| Russian | Spanish | Arabic | USA |