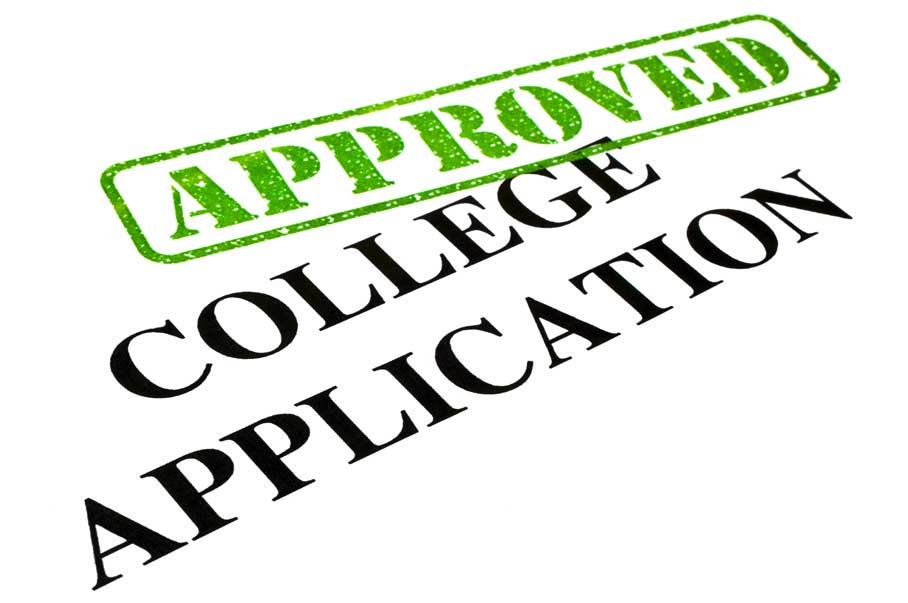 It's the holiday season, you've worked as hard as possible to keep up with your schoolwork AND write the Common App AND fill out endless application forms, and the response from your Early Decision school is a blow to the gut: a deferral. You wander around in dismay, devastated, embarrassed, not sure what to do next or how to wrap your head around the possibility that your first choice school has not sent you a hearty welcome!
Do not despair! Let's talk about what a deferral actually means for a moment.
Being deferred is not a rejection or an acceptance: it is simply another word for the college asking you to wait for a little bit. Basically, a deferral means that the college has decided to hold onto your application while they weigh it against the rest of the applicant pool. For some reason, your application did not leap out of the pile and dance in front of their eyes.
There is still hope.
Now this is where you do have a choice: how do you react to this setback? Do you swallow the raw lemon and gag, or do you make lemonade? At My Learning Springboard, we suggest you learn how to make lemonade, and quick!
There is still some work to be done if you want to see whether you can change that "maybe" to a resounding "YES!!" You thought you were done with this hellacious process? Think again. Now is the time to RALLY!!!
The reality is that for some reason, your application did not stand out, as perhaps it could have, on the first round. So what do you do now? BE PROACTIVE!
Step 1: Contact the Admissions Office
Contact your dream school's Office of Admissions and ask to speak directly with an admissions counselor, if not the Dean of Admissions. You have nothing to lose provided you plan properly and communicate appropriately.
Before calling, sit down and jot down 3 bullet points – what are the 3 "messages" you want to convey to this admissions person? What is the final take-away point that you would like to leave him/her remembering?
Politely ask why your application was deferred. Engage in a short conversation about it. DO NOT BE DEFENSIVE. Many schools are now expecting these phone calls. But before you call the school, you MUST study their website with a fine tooth comb to be certain whether or not the college has specifically asked students NOT to call. You certainly do not want to jeopardize your deferral by overstepping important boundaries at this point.
Basically, you have 3-5 minutes to begin to turn the situation around. Ask for suggestions. What can you do at this point? What supplemental material could you submit? Reconfirm your specific interest in the school.
In doing so, you are making the school representative, and hence your dream school, aware of your COMMITMENT and your worthiness of an acceptance. You want to convey your sincere desire to attend this particular college.
If in doubt about what to say, contact the My Learning Springboard office ASAP to discuss an appropriate strategy. We are available over the winter break.
Step 2: Write a Letter
Write a letter. How simple! How sweet!
Your goal in writing this short letter? Basically you want to convey your continued interest in this college. Why would it be the perfect match for you? What one quality do you possess that would make this a win-win for all?
Remember, saccharine is NOT the correct tone to take here. This is THE moment to be genuine and honest. Do you want to sound whiny, angry, or petty in this letter? Absolutely NOT.  Your goal is to be upbeat and positive!!!
In your letter, you might choose to mention a recent personal or academic development that makes you stand out, like the fact that you just received a good samaritan award for helping the elderly, or that you are volunteering over the holidays in a soup kitchen, or that you have been invited to be co-chair of a new club at school. If nothing like this has happened in the recent past because you have been chained to your desk writing essays, don't bother making anything up. Your letter must be authentic if you have any hope of swaying the Admission Committee's minds.
Step 3: Improve Your Test Scores
If you think you could improve your test scores because you believe the scores did not represent you properly, and you think you have a real chance to improve them, SIGN UP TODAY and contact the My Learning Springboard office ASAP to schedule meeting times with a test preparation tutor. We have a number of teachers with availability over the winter break, either in person or remotely.
Step 4: Share Updated Report Cards
Mid-year Grade Reports: Once again, check college websites to see if they ask for mid-year grades. If so, make sure you contact your high school registrar ASAP to request that they are sent to the Admissions Office. Be sure you meet the school deadline for this submission.
Step 5: Organize An Additional Recommendation Letter
Consider submitting one final shining teacher or personal recommendation that addresses your finest qualities and why you would be such a perfect fit for the school. Again, check first to see whether the school will even accept additional recommendations. Many schools do, some don't.
Step 6: Let Go
This is the moment of truth: you may never receive that much hoped for letter of acceptance from your "dream" school, because frankly, adult to adult here, there is no one perfect school for anyone. Just like you understood deep in your heart that the letter of deferral was in fact not really a "rejection" of you, now you are also beginning to understand there are moments in life when we just have to let go. Letting go is a tremendously difficult, but life saving skill to learn. The only thing we can be certain about in life is that everything changes.
Step 7: Complete All Other Applications
Whether or not you decide to do any of the above, the one thing you MUST do at this moment is make sure all of your other applications are completed and you hit send, even if in your heart you are still holding out hope for an acceptance from your the school you originally thought was your dream school.
Time to be practical. You've simply got to RALLY again!
Write the best applications you can. Take another look at the school websites. You might even surprise yourself, there may be an even better match out there waiting for your application — a place where your real value will be seen, appreciated, and welcomed with open arms!!
A final note ~ When you are sitting on the sofa over the holidays with that enormous box of chocolate on your lap, just remember:
You have done your best and we are proud of you!!!
This has been an incredible journey and process of growth for you. You have climbed a mountain and reached the top, whether or not you know where you're headed next. And therein lies the adventure. Don't let a deferral get you down!
Written by: Editorial Team,
My Learning Springboard, Inc.