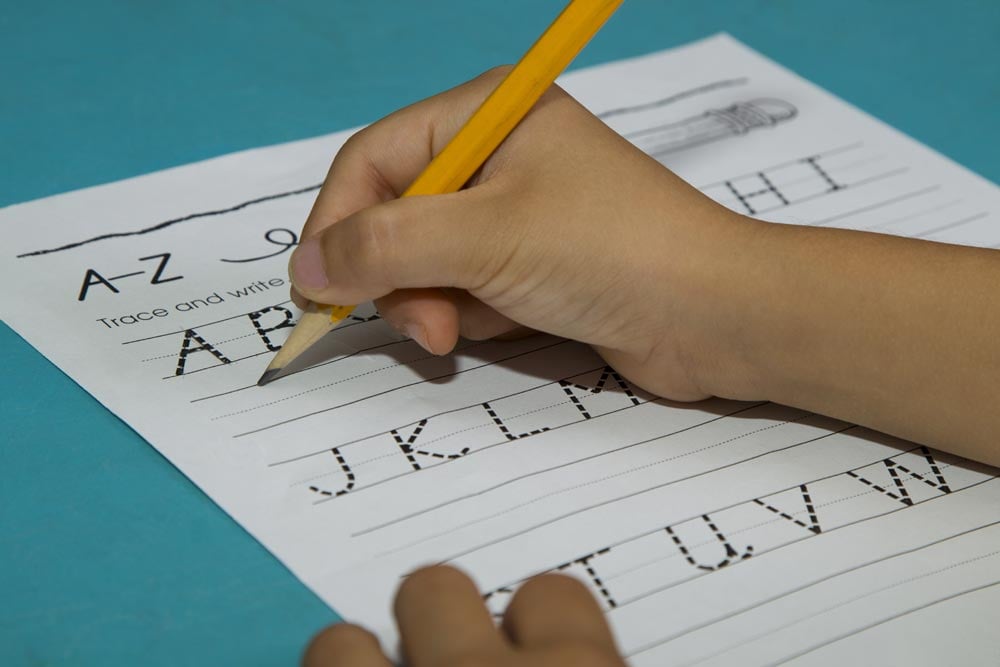 A recent article in the New York Times outlines the work of a few scientists who argue that handwriting, an art quickly disappearing from curricula and state standards of education (including the Common Core State Standards) is more important than some realize. Maria Konnikova's comprehensive article highlights the work of psychologist Karin James, at Indiana University, who has used brain imagery to show that the process of learning how to write by hand might actually help children learn in the long run.
The Experiment
In Dr. James' experiment, "Children who had not yet learned to read and write were presented with a letter or a shape on an index card and asked to reproduce it in one of three ways: trace the image on a page with a dotted outline, draw it on a blank white sheet, or type it on a computer. They were then placed in a brain scanner and shown the image again.
The researchers found that the initial duplication process mattered a great deal. When children had drawn a letter freehand, they exhibited increased activity in three areas of the brain that are activated in adults when they read and write: the left fusiform gyrus, the inferior frontal gyrus and the posterior parietal cortex. By contrast, children who typed or traced the letter or shape showed no such effect. The activation was significantly weaker."
In Dr. James' view, these differences can be attributed to the messiness of learning how to write with free-form handwriting: "not only must we first plan and execute the action in a way that is not required when we have a traceable outline, but we are also likely to produce a result that is highly variable." These variabilities might be a learning tool in themselves. "When a kid produces a messy letter," Dr. James said, "that might help him learn it."
Possible Explanations
In another study conducted by Virginia Berninger, a psychologist at the University of Washington, it was shown that among children in grades two through five, printing, cursive, and typing are all associated with "distinct and separate brain patterns–and each results in a distinct end product."
Berninger's result showed that "when the children composed text by hand, they not only consistently produced more words more quickly than they did on a keyboard, but expressed more ideas. And brain imaging in the oldest subjects suggested that the connection between writing and idea generation went even further. When these children were asked to come up with ideas for a composition, the ones with better handwriting exhibited greater neural activation in areas associated with working memory — and increased overall activation in the reading and writing networks."
Takeaways
Even though the importance of handwriting does have detractors–the Common Core, for instance, only requires that children learn handwriting in grades K-1–new research does suggest that the benefits of handwriting extend even beyond childhood and learning how to learn: "For adults, typing may be a fast and efficient alternative to longhand, but that very efficiency may diminish our ability to process new information. Not only do we learn letters better when we commit them to memory through writing, memory and learning ability in general may benefit."
This research has suggested that writing by hand, even for older students, "allows the student to process a lecture's contents and reframe it — a process of reflection and manipulation that can lead to better understanding and memory encoding."
So what does this mean for your child? Encourage your student to leave the laptop at home and write notes by hand: you never know what good it will do. 
Written by: Editorial Team,
My Learning Springboard, Inc.