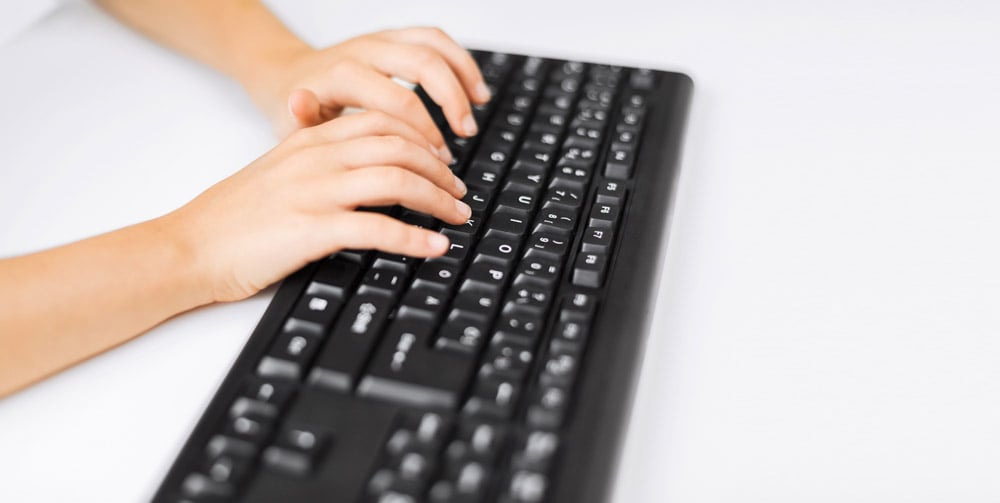 There was a time when handwriting was a major part of the elementary curriculum, and cursive handwriting was explicitly instructed. We still find some handwriting instruction, particularly in the primary grades, but cursive instruction is becoming more and more rare. Why? The resounding reason is that cursive handwriting is considered an obsolete skill. Schools are also pressured to prioritize subjects and instructional time [based on what's tested], so if science isn't going to make the cut, certainly cursive handwriting will lose out as well. Whether you agree that cursive handwriting is an obsolete skill or not, I think we can all agree that typing skills are absolutely critical. Hunting and pecking the keys serves our needs on mobile devices and tablets, but the ability to sit in front of a desktop computer or laptop and properly type with speed and accuracy creates a huge advantage for students, including improved multi-tasking, more efficient editing, and speedier research.
Schools, however, cannot provide enough structured practice opportunities during the school day for mastery of typing. This skill should be developed and reinforced at home using any of the resources below. 10-20 minutes of practice at least 3x per week would be a terrific investment for elementary students. Teens and adults should also ratchet up their skills to remain competitive. Just wait until you start typing without looking at the keys…it will change your life!
Typing Pal – Renowned for being simple and user-friendly, and Garfield's Typing Pal is useful for both beginners and experts to become more proficient at computer communication by teaching sound keyboard skills. This course, customized for each learner, uses animation, statistics, and individualized tips to help guide students towards typing fluency. In fifteen short lessons, you will have learned all the basics towards typing. Typing Pal's inspector even monitors your typing skills in other software–such as word processors or email programs–and suggests exercises to improve typing performance.
Typing Instructor for Kids 5.0 – In this island adventure themed program, kids are on a mission search for treasures and earn points in order to become the ruler of "Typer Island." It features Step-by-Step Typing Instruction, including proper posture, finger position, and ergonomic features. The program features challenges, tests, and games to improve speed and accuracy. Typing Instructor instantly provides kids with the results of their progress, which serves as a greater incentive for kids to improve their typing.
Type to Learn 4– Published by Sunburst Digital, this keyboarding software is used in 97% of school districts. Using an integrated cycle of review, practice, and assessment, Type to Learn is targeted at students K-12 and focuses on both accuracy and speed and creates individualized goals for each student. According to Dr. Leigh E. Zeitz, Associate Professor for Instructional Technology, Curriculum and Instruction at the University of Northern Iowa, "The on-going assessment and evaluation system built into Type to Learn 4 ensures that students are challenged as they learn, but are also provided the necessary scaffolding to promote personal accomplishment."
Mavis Beacon Teaches Typing– In order to help students improve accuracy and speed, this program assesses students' skill level and customizes lessons to suit their individual needs. You can customize your own program by choosing from their selection of articles to type or even import your own text.  This typing skills program includes 430 personalized lessons and 16 arcade-style games. English, Spanish, and French versions are also available.
To read reviews of other top programs, check out this list of the Best Typing for Kids Software Comparison and Review.
If you're looking for something less structured, check out this site of free online typing skills games for some extra enrichment that's fun and easy.
Please contact us to setup technology enrichment teaching.
Written by: Editorial Team,
My Learning Springboard, Inc.