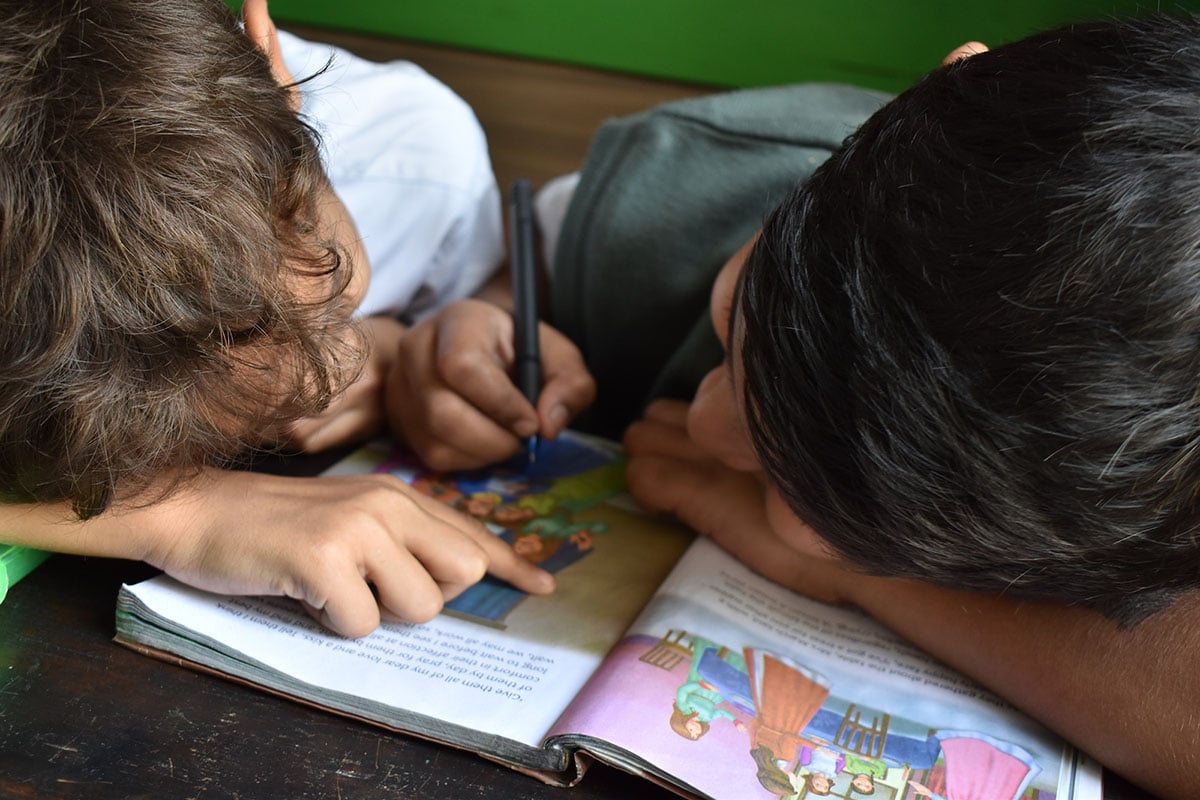 Many teachers and families will notice that their seemingly simple questions, "What's your book about?" or "What's happening in your book?" are not met with brief, comprehensible answers. Students' long, complicated answers about their books demonstrate their difficulty with summarizing fiction and effectively sharing their understanding about what they've read.
Elements of Fiction
At the earliest stages, children are told that the main elements of a story are the plot, the characters, and the setting. In order for students to be successful readers and effective at summarizing fiction texts, it helps to first explore the basic structure of most fiction stories. Many teachers refer to the plot as the story mountain, which is an easy way for students to see how tension rises throughout almost all stories or fiction books.
Most stories typically begin with an introduction to the main character's life. Then a conflict is presented. Teachers often describe the conflict as the problem in the story, but it can simply be something the character wants to happen or needs to do. Then the tension rises as the character attempts to solve the problem. Finally the conflict is resolved. As students mature, they will experience more complex stories with smaller conflicts along the way to the main conflict's resolution.
Summarizing Fiction While Reading
Summarizing fiction while in the midst of reading is different from summarizing at the end of a book, but there are some similarities and also some common errors that students make.
It is not uncommon for students to be halfway through a book without being able to name the main character or what the character wants. Or, there are students who know the central problem, but they struggle to see how the chapters connect to the main idea. So it is helpful for readers to summarize throughout a book because it helps them keep track of what is happening. These short summaries are helpful for teachers and families to check that the reader has a sense of what is happening and why. As students read more complex chapter books, they should always have an understanding of how each chapter fits into the general arc of the story; in other words, how the parts fit into the whole.
During reading assessments, students are often asked to tell about the most important events of a story. I have noticed that many students are unsure of what is important and what isn't important when they are reading, and that's why we often get long explanations or seemingly disparate pieces of information that are confusing. For some students, the most important information is the conversation two characters had. For other students, the important information is the funny moment that made them laugh. Therefore, I ask students to name the main idea of the chapter instead of the important information.
When learning how to name a main idea, students benefit from direct instruction about the difference between a main idea of a chapter, which is a more general statement that encompasses several actions that happened, versus small, specific details. When chapters have titles, the title is often a clue about the main idea. It helps for all learners to see that a main idea is something that gets repeated or is discussed for a large part of a chapter, whereas specific details are mentioned once (but can certainly support the main idea). The skill of distinguishing an overarching big idea from specific details is an essential skill that readers will be able to apply to nonfiction reading as well.
Summarizing fiction after a reader has finished is a different task. Once the problem has been resolved, the reader can identify what information was important because they can see which actions directly led to the problem being solved. While a summary written in the midst of reading seeks to explain how the current events fit with the main problem, a summary at the end of the book maps out the steps that led to the resolution.
Before writing, many students benefit from direct instruction on how to embed so much information into one sentence. The Somebody-Wanted-But-So strategy is an effective starting framework for summarizing fiction texts. A typical summary sentence starter might look like this:
In title of book, by author, character wanted . . . but . . .
Or
Title of book, by author, is about character who wanted . . . but . . .
Summaries need to pack a lot of information into a few sentences. Many students will need practice with the grammar and punctuation associated with more complex sentence structures.
Leveling up students' summaries
In order for students to demonstrate a high level of independent comprehension, they should be able to infer and express their own ideas about the text. A highly effective summary includes students' ideas about the characters, events, or author's craft showcasing their inferential thinking skills.
When we hear students gasp, laugh, or talk to their characters, we know they are deeply engaging with their books beyond basic comprehension. As readers, we infer when we collect clues authors have mentioned but haven't directly stated. Students can demonstrate a stronger level of comprehension by summarizing fiction in a way that uses evidence from the text to defend their own ideas about the text.
Here are some typical inferences (though there are many more) students will wrestle with. These examples are listed in a general order of rising complexity:
Predict what they think will happen next.
Think about a character's feelings or personality.
Develop theories about character relationships.
Interpret the meaning of new words or expressions.
Learn life lessons from the book.
Identify overarching themes.
Name symbols that are repeated.
Wonder about an author's style or writing choices.
When we challenge students to share their own thoughts about a chapter or book, it is essential that students provide evidence from the text to support their ideas. In our experience, whenever we've simply asked students what they thought about their reading, they often  share their predictions. Children can develop very creative ideas for their predictions, so requiring evidence to support their theories helps keep their predictions grounded and provides a clear check on their independent comprehension.
We have found that our students almost always need direct instruction and guided practice for how to manage any of the previously identified inferring skills. The more students have the opportunity to practice these skills during guided practice, the more confident they will become to take risks and reveal their thoughts about their reading. Below you will find some suggestions to help develop your student's skill set in summarizing fiction.
Types of Inferences
In order for students to develop several defensible ideas about their reading, it helps to read several books in the same series. Reading across a series enables a reader to pay more attention to new events and vocabulary since they already know all of the characters. When your students have developed theories about their characters and books, they can include those ideas to demonstrate they understood and engaged with their books.
Summarizing fiction is an incredibly complex task. Readers must determine what information is most important or central to the main idea of the text, reconstructing how events fit into the overall plot. When writing a summary, they must pack a lot of information (who, what, why) into a few sentences. Finally, readers can be challenged to share their own thoughts about the events of a book. Distilling all these ideas into a few, clear sentences  takes a lot of practice.  The next time you ask a young reader what their book is all about, consider the attentional, executive function, and language skills that were involved in forming the response! Writing effective and succinct summaries takes years of elementary school practice with lots of opportunities for direct instruction and timely feedback!
By Rachel Levinsky, Learning Specialist and Private Tutor, Brad Hoffman, Board Certified Educational Planner and Learning Specialist, Faya Hoffman, Board Certified Educational Planner and Learning Specialist, and Laurie Gross, M.A.T. and Reading Specialist