The Future of Reading
Taking notes is important when reading academic material whether the text is digital or analog. There is a growing group of young minds, particularly generation Z (born between 1995 and 2012) who prefer consuming content exclusively on digital devices. Not all of these students annotate digital texts efficiently. This generation is the first born completely immersed in the internet and its associated channels and devices. The phone, tablet, and e-reader have become integrated with their lifestyles choices, almost like extensions of their bodies. Paper and pen is now often optional. For a student and parent, there are immense benefits in consuming content on digital devices. Textbooks are usually cheaper if downloaded and also extremely portable. I remember the days when I had to carry ten pounds worth of textbooks in my school bag. Now more and more academic institutions are even switching over to tablets and laptops for content consumption. When I see students consuming content digitally, for some students there are challenges with new information being easily retained and accessed. This becomes very important when writing research papers when items in the text may need to be annotated. Fortunately, with a little planning (and a piece of paper) it's not too difficult to ensure students annotate digital texts efficiently and access the information they need.
Annotation Tips and Tricks on Kindle and other Tablet devices
E-readers such as the Kindle allow students to annotate digital texts through the highlighting feature and type in a note on the device. It's later centrally stored and easy to access. However, this not always enough. When reading a print book, you can underline text, write some comments in the margin and even stick a small post-it note on the page. This ensures that the essence of the underline is remembered and immediately accessible. On a digital device, even though highlighting is possible, it can become time-consuming to type notes.
Kindle's on-screen keyboard may be cumbersome to type notes for some students.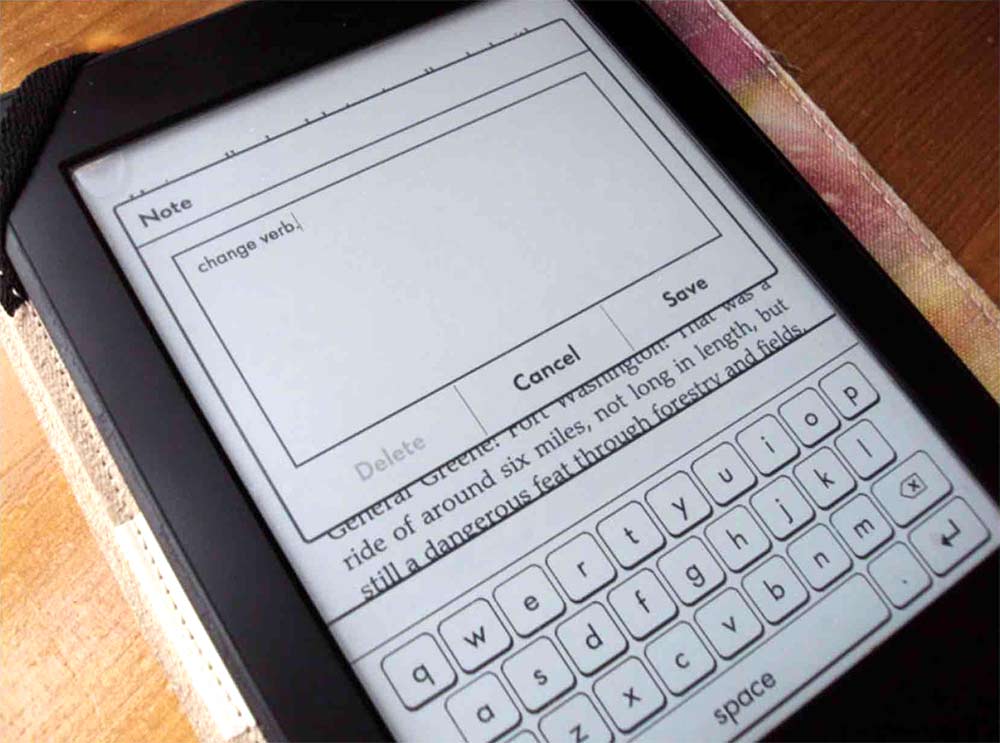 Recently I worked with two students reading the same book for class. One had the print version and the other had the Kindle. The first student was able to quickly use his pencil to underline text and write notes in the margin. The second student had to do a variety of swipes and presses and then carefully type in his notes in the rather clunky digital interface. However, there is a workaround to inputting text into the kindle device. Amazon has a digital notebook you can access on your computer with all the books downloaded and synced. All the student's bookmarks and highlights are catalogued here and it's very easy to copy and paste for quotations. Whenever you make a highlight in your Kindle device, it synchronizes the same text to your digital notebook. You can enter notes associated with every highlight in a corresponding text box online. This is usually faster than inputting on the kindle device with two thumbs. However, this means that you have to read with your Kindle and laptop, which might be off-putting and distracting for some students. Amazon does offer Kindle users the ability to read their books on their computers through a downloadable desktop application. The app has the same intuitive reading experience as on the Kindle device. But taking notes is still cumbersome in regards to accessibility. Once a student begins writing their assignment, it sometimes takes a while for them to find the information they are looking for in a very long text. Is there an alternative? Yes! There is. We recommend maintaining a master annotation sheet indexing all highlights in one location. A simple piece of paper is instantly accessible. For literary works with many chapters it can take much less time than accessing the corresponding highlights digitally. This is our little hack so students annotate digital texts more efficiently.
Using the Master Annotation Sheet
Digital annotation is very easy. We recommend the student split the paper in half longitudinally. In the first column, they write the chapter and letter pertaining to annotation. The number is for the corresponding chapter and the letter is for each idea. So three annotations in chapter 3 would look something like this:
3A Death of the queen
3B Riots in the streets
3C First kiss tension
Having this master sheet saves time for the student when they are writing their paper. They can quickly find the chapter and section highlighted, corresponding to the idea they would like to elaborate on.
Many students prefer to read on digital text and if it encourages students to read more, that's a good thing. The Kindle is a powerful device with it's built in dictionary and vocabulary builder. When you look up words definitions, they are automatically added to the vocabulary builder on the device. With vocabulary builder, you can use digital flashcards to later practice remembering these definitions. Most importantly, it is critical to make sure students can remember what they read and can easily access that information as effortlessly as possible. By having a little "old school" annotation sheet, they have a foolproof method to annotate digital texts and ensure their research writing is as efficient and effortless as possible.
By My Learning Springboard Editorial Team