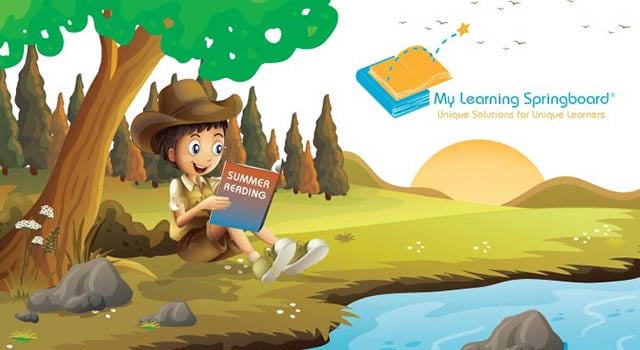 This summer My Learning Springboard partnered with a private sleepaway camp in the Berkshires to help campers avoid the summer slide with individualized tutoring.  We're really excited about the model we have in place and the first week was a huge success.  As a former camper and camp administrator, I'm sensitive to the fact that tutoring at camp may seem disruptive.  But it doesn't have to be.  When camps, tutors, schools, and families work in partnership, all obstacles become manageable.
After weeks of preparation talking with campers' teachers, learning specialists, private tutors, and related service professionals, we were able to develop individualized learning plans for each camper.  We recruited teachers from our faculty based on the needs of our campers ranging in grades 3 through 10.  Some campers are struggling readers and needing explicit instruction and guided practice throughout the summer.  Other campers are working on math skills, whether it's reinforcing content from the previous school year or addressing prerequisite skills needed to take a more challenging course in the fall.  And a few campers have fall admissions testing and need preparation leading up to their exams, such as the SSAT, ISEE, or SHSAT.  Teams of teachers from Manhattan are traveling to camp weekly to meet with students individually or in very small groups.
Scheduling is facilitated by camp administration to avoid campers missing activities.  During this first week, our students all arrived to their tutoring sessions smiling and left feeling good about their work.  Some campers have homework between sessions while others do not.  It all depends on the expectations of each family and school.  We have a dedicated space called the Learning Lodge, which is a converted cabin overlooking the lake.  It's a great space and kids can work inside at tables or on the front porch.  Following our sessions, we send progress reports to parents and will ultimately facilitate communication with teachers and private tutors at the end of the summer.  In this way, we're interested in seamlessly on-ramping and off-ramping our students from this summer program.
Tutoring at camp is actually really nice and may be less stressful for some kids than tutoring during the school year because of the confidence kids build in the camp setting.  It's true that not every camper will be thrilled about the idea of tutoring at camp, but an hour out of their week isn't really that big of a deal, and most of the kids recognize that they need the practice.  In fact, one teen was adamant with his parents that he would not participate, and then he showed up for his first session with a completed practice test in hand and a can-do attitude.  At camp, a little academic work is just another activity in the day, and a short break from a day full of sports and fun didn't seem to bother them.  Our campers came off kayaks or rollerblades to work with us and then slipped right back onto the beach or basketball court.  Minimal disruption.  Big impact.
Written by: Editorial Team,
My Learning Springboard, Inc.